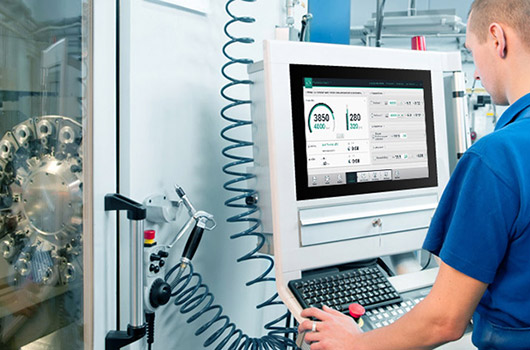 Touch Screen Industrial Applications
Industrial settings are some of the most challenging environments for systems that employ projected capacitive (PCAP) touch screen technology. Manufacturing equipment and heavy machinery are common in many different climates and locations, indoor and outdoor. Other electronic devices are often nearby and will be sources of noise interference. The projected capacitive (PCAP) touch screens may be exposed or abused. Industrial applications require the utmost accuracy, reliability, and safety. A projected capacitive (PCAP) touch screen installed in an industrial system cannot fail to issue commands or issue false commands all while surrounded by noise interference generating equipment and located in a harsh environment.
---
Industry occurs in many settings and conditions and AMT projected capacitive (PCAP) touch screens can prepare your product for:
Water
Rough use
Sunlight
Noise Interference
Extreme weather
AMT touch solutions achieve superior performance in industrial applications through powerful functionality:
Advanced water handling.
Thick cover lenses meet IEC 62262 IK8, IK9, and IK10 standards.
Anti-UV, Low Reflective designs.
Passes IEC 61000-4-3 RS 28 V/m and IEC 61000-4-6 CS 15 Vrms EMC standard.
Cutting edge frequency-hopping algorithm.
System Reference function and glove support.
Simultaneously enabled in one firmware.
Video

AMT Touch Screen IPC Applications

Related Products