AMT Webinar - One-stop Service, One-stop Conference!
26 Jul, 2021
The spread of Covid-19 since early 2020 has drastically affected the business model worldwide, and the interaction between suppliers and customers has also undergone tremendous changes. AMT set out to digitize the interaction with our customers in response to the circumstance, including setting a precedent for customized webinars! We organize exclusive seminars for each customer to introduce new product features. We consolidate customers' requests about AMT technology, design or products, and appoint designers, sales, and engineers for each seminar accordingly so we could help speed up the timeline of product development of yours. So far, we have held more than a dozen seminars in just 20 days from July to the present. We have had clienteles from Europe, America, Taiwan, and China, and the seminars were well-received!
All you can ask!
AMT has more than 20 years of experience in the field of touch screen. The total solution we provide includes touch panels, touch controllers, software, drivers, optical bonding, mechanical assembly, and other Value-added services that can provide seamless services for you. Along with this pioneering AMT Webinar communication paradigm, we can provide customized content and answer all your questions in one go!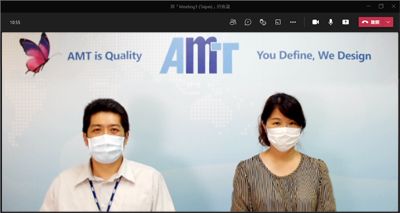 Let AMT be your think tank
If your company has any issues designing or using touch products, please don't hesitate to contact AMT. Our representatives are ready to help you at all times. It is our earnest hope that aside from providing high quality products, AMT could also function as your company's design think tank!
We urge you to follow AMT's social media listed below to stay informed on our updates. We will release the latest product information, breakthroughs, social responsibility events, etc., on these platforms.